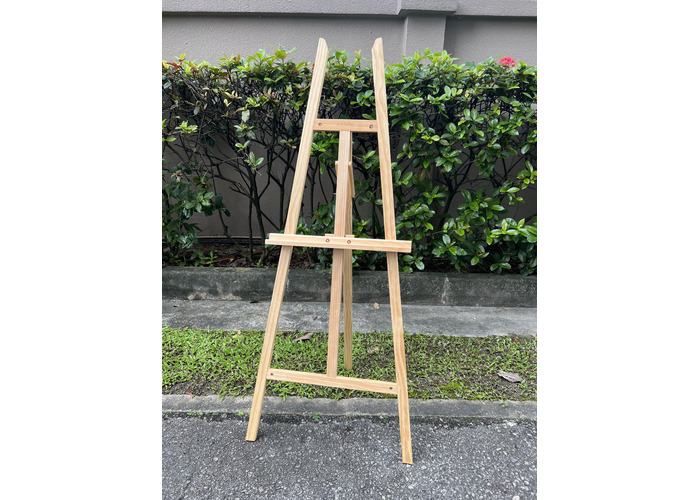 [Rental] Wooden Easel Stand, Self-Collection Only
Need an easel for an event but don't want to spend money to get it since you won't use it after the event? Print For Fun now provides a rental service to allow you to rent the use of an easel to display your canvas!
Easel Measurements:
Size: 1.35m x 0.46m
Suitable for our framed prints and 3.5cm thick canvas prints
Details for Rent
Cost: $120 (inclusive of $100 deposit, fully refundable upon return)
Check for your date availability in the Product Details section below.
How to order
$120 (inclusive of $100 fully refundable deposit) for 1 week rental inclusive of day of pickup and return, eg. pick up Fri after 12pm, before the next Fri 12pm.

Once you order, we will send you an email (within 1 working day to confirm your date with you). Please note that rental is on a first-come-first-serve basis. If your date has been taken, we will refund your payment to you. Please allow 5-10 business days for your payment to reflect in your account.

Pickup and dropoff at our office: Mon-Fri: 9am-5.30pm

Customers to check availability via the Product Details below to see if your date is still available.

Customers are advised to come down to inspect upon pickup and note any defects & snap photos if any.

If you have checked this out with your order (including delivery), please note that you will have to come down to the office physically to collect this easel as it will not be delivered.

Please read our Terms & Conditions with regards to payment & deposit. You are deemed to have accepted the Terms & Conditions when you proceed with the rental via our website.
Terms & Conditions
To ensure that other customers are able to rent their item in a timely manner, please return the items on time. For additional days of delay, $15 per day or part thereof will be levied and deducted from the deposit.

Deposit will be refunded upon inspection during return. If there is a clash of date, the rental will be given to the customer who ordered on a first-come-first-serve basis. We will refund you if we are not able to proceed with the rental.

Refunds to be processed in 5-10 business days.

A $20 fee will be levied for any date changes/cancellation and will be deducted from the deposit paid. Please understand as we have reserved the date for you, and turned away other customers in doing so.
Don't take our word for it