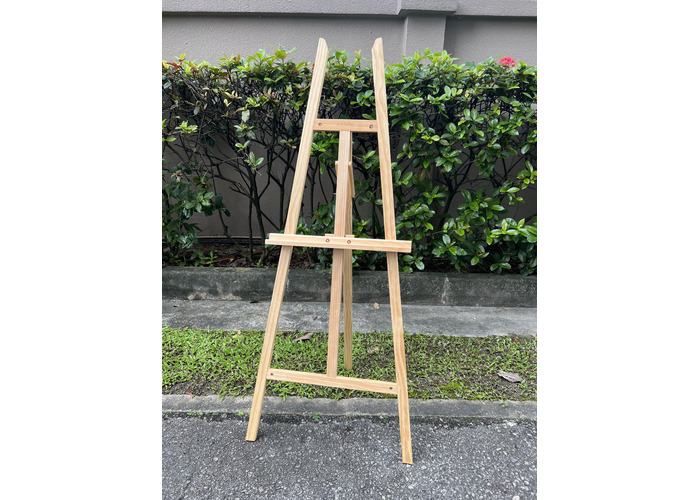 [Rental] Wooden Easel Stand, Self-Collection Only
Need an easel for an event but don't want to spend money to get it since you won't use it after the event? Print For Fun now provides a rental service to allow you to rent the use of an easel to display your canvas and framed prints! This self-collection item is easy to set up and store. Rent our Wooden Easel Stand today!


Easel Measurements:
Size: 1.35m x 0.46m
Suitable for our framed prints and 3.5cm thick canvas prints
Details for Rent
Additional Cost: $100 deposit in cash during collection (fully refundable upon return)
How to order

$120 (inclusive of $100 fully refundable deposit) for 1 week rental inclusive of day of pickup and return, eg. pick up Fri after 12pm, before the next Fri 12pm.

Once you order, we will send you an email (within 1 working day to confirm your date with you). Please note that rental is on a first-come-first-serve basis. If your date has been taken, we will refund your payment to you. Please allow 5-10 business days for your payment to reflect in your account.

Pickup and dropoff at our office: Mon-Fri: 9am-5.30pm

Customers to check availability via the Product Details below to see if your date is still available.

Customers are advised to come down to inspect upon pickup and note any defects & snap photos if any.

If you have checked this out with your order (including delivery), please note that you will have to come down to the office physically to collect this easel as it will not be delivered.

Please read our Terms & Conditions with regards to payment & deposit. You are deemed to have accepted the Terms & Conditions when you proceed with the rental via our website.
Terms & Conditions
The rental agreement is between Print for Fun (we) and the Customer (you). By placing your order, the Customer agrees to the following Terms and Conditions
All rented props remained the property of Print for Fun at all times.
All rented props must be collected and returned to our office at 6 Ubi Road 1, #04-10, (Singapore 408726) unless otherwise arranged with Print For Fun. Collection and return time is between 9am to 5.30pm on weekdays (excluding Public Holidays) unless otherwise stated.
Upon collection, it is the customer's responsibility to carefully inspect all rented props to ensure they are free from defects. The customer must acknowledge the condition of the items by providing a signature. Please be aware that certain items may exhibit signs of wear and tear, which should be noted. If the customer fails to inspect the items before leaving our premises, they will be considered in satisfactory and undamaged condition. Kindly retain the packaging in good condition for repacking purposes. Any loss or damage to the packaging or boxes will incur charges equivalent to their replacement value.
We strongly recommend that customers inspect the rented props in person during the pickup process and take note of any defects. Additionally, we encourage customers to take photos of any existing issues, if present.
Upon rental of the props, a refundable security deposit of $100 is necessary. The deposit will be refunded to the customer upon the return of the props in an undamaged state and in the same condition as when they were initially collected from our premises.
The customer is responsible for covering the entire retail value of any missing or damaged props. This amount will be deducted from the security deposit. If the total amount surpasses the security deposit, the customer must settle the remaining balance with Print For Fun within 3 days of the return date.
The rental period is set for 7 days (1 week), which includes the day of pickup and return. For instance, if the props are picked up on Friday after 12pm, they should be returned before the following Friday at 12pm. Any extension to the rental period must be approved by Print For Fun. If the rented props are kept for a longer duration without our permission, the customer will be charged $20 per day or part thereof, deducted from the deposit. This amount will be deducted from the customer's security deposit.
Print For Fun accepts no responsibility for injury caused to any person or damage caused to any property of the customer resulting from the rental of our items.
For any cancellations/changes on your part, a $20 fee will be levied and deducted from the deposit paid. Please understand that we have reserved the date for you, and turned away other customers in doing so.
If there is a clash of dates, the rental will be given to the customer who ordered on a first-come-first-serve basis. We will refund you if we are not able to proceed with the rental.
Refunds are to be processed in 5-10 business days.
Don't take our word for it